Hey Everyone,
Hope you're having a great week. Here are a few things I've been reading, writing and pondering lately. Enjoy!
Come hang out with me, my coworker Devin Bramhall and 360Learning content director Joei Chan on Tuesday at 10am ET. Joei was recently hired to lead content and is launching in the middle of the Covid-19 crisis. We'll talk all about it and help her brainstorm ways to make it happen.
I started a Slack community for content marketers last May. It's been growing fast recently and there are now more than 700 active members. This is a good time to lean on your peers for ideas and inspiration. Come join us.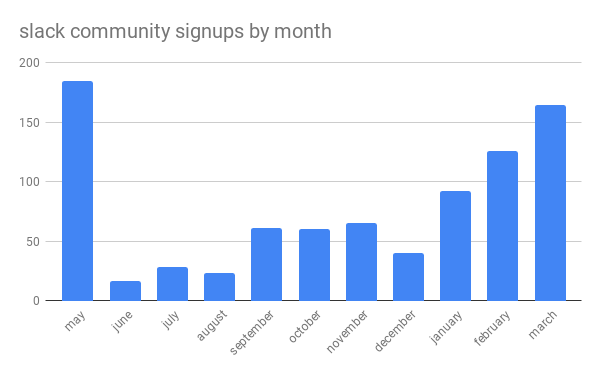 If you want to understand how your CEO/CFO are thinking about cash flow, read this. It helped me understand why some healthy businesses are struggling right now.
There is a strong temporal element to cash flow. Most businesses don't pay their bills immediately, nor do they receive payment from customers immediately. This is known as 'accounts receivable' and 'accounts payable'. So you can imagine a scenario in which a perfectly healthy business with great gross margins pays salaries and rent but suddenly faces a cash crunch when customers delay their payments for a month or two. The business is profitable in theory. In practice it's toast.
5. Random Links
Have a great weekend!
Jimmy
PS - Want to brush up on your content marketing skillz? Check out my course 5 Days to Better Content Marketing. Join 400+ people that have taken and enjoyed it.
PPS - I started a Slack community for content marketers. It's free and there are 550+ wonderful people sharing, learning and looking out for each other. Learn more here.
PPPS - I've had some great folks sponsor this newsletter lately. If you're interested in promoting your product or service to 4,000+ incredibly smart people, reply to this email to chat more.