Hey Everyone,
Hope you're having a great week. Here are a few things I've been reading, writing and pondering lately. Enjoy!
This is a long but great article by John McPhee. I was clued in by Good to Great author Jim Collins on the Tim Ferriss podcast.
If you lack confidence in setting one word after another and sense that you are stuck in a place from which you will never be set free, if you feel sure that you will never make it and were not cut out to do this, if your prose seems stillborn and you completely lack confidence, you must be a writer. If you say you see things differently and describe your efforts positively, if you tell people that you "just love to write," you may be delusional.
AN AMERICAN CORPORATION
You have two cows.
You sell one, and force the other to produce the milk of four cows.
Later, you hire a consultant to analyze why the cow has dropped dead.
A JAPANESE CORPORATION
You have two cows.
You redesign them so they are one-tenth the size of an ordinary cow and produce twenty times the milk.
You then create a clever cow cartoon image called 'Cowkimon' and market it worldwide.
AN ITALIAN CORPORATION
You have two cows, but you don't know where they are.
You decide to have lunch.
I'm generally not a fan of this kind of post, but Brian Dean knows what he's doing. Here's one finding I thought was particularly interesting:
We found virtually no correlation between backlinks and social shares. This suggests that there's little crossover between highly-shareable content and content that people link to.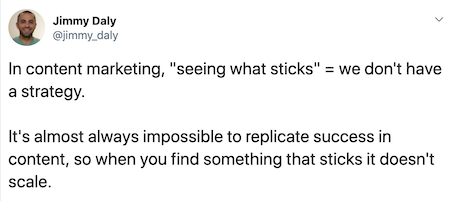 5. Random Links.
Have a great weekend!
Jimmy
PS - I finally relaunched my content marketing course, 5 Days to Better Content Marketing. Join 300+ people that taken and enjoyed it.
PPS -  I'm looking to partner with a few great businesses to sponsor this newsletter. It reaches a bunch of smart folks from places like Google, Apple, Spotify, New York Times, Marriott and Harvard. Shoot me an email if you're interested in working together.
PPPS - I'm now an official Ghost partner. I've been using Ghost to run my blog for years and I absolutely love it. If you signup for Ghost with my link I do get a commission, but you get an incredibly powerful and simple way to manage your website. Markdown ftw!