Hey Everyone,
Hope you're having a great week. Here are a few things I've been reading, writing and pondering lately. Enjoy!
It's really difficult to gain traction in organic search, which is why it's painfully frustrating to watch it slip away.
When traffic is trending up, it can feel like you've finally cracked organic search. And when it starts to decline, it can instill a helpless feeling in even the best marketers.
After diving into several dozen Google Analytics installs, we have some answers to this common problem.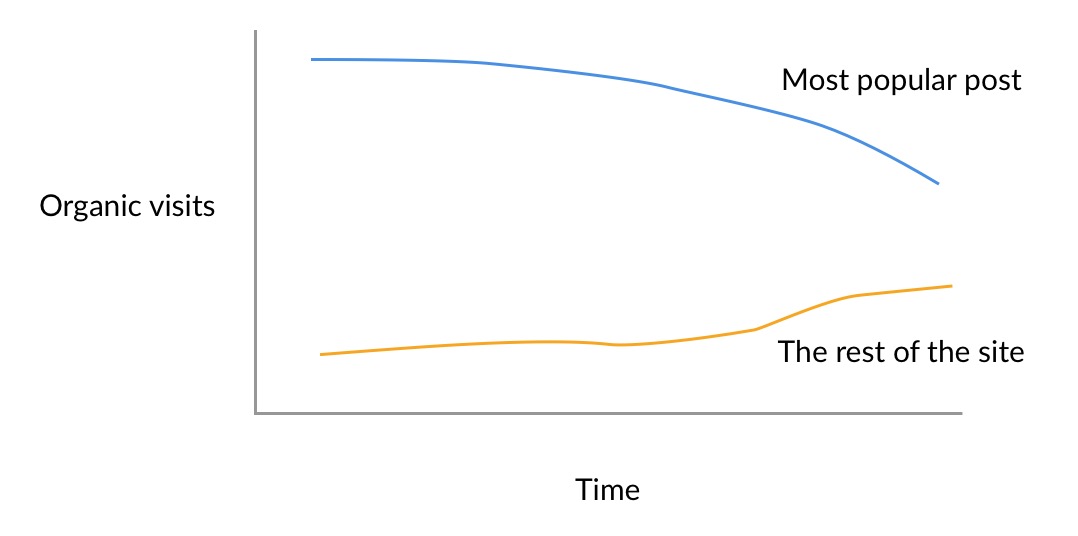 "Forest bathing" is an extremely weird term, but this is still interesting.
Some small studies, many conducted in Japan and Korea, suggest that spending time in nature, specifically in lush forests, might decrease stress and blood pressure (especially in middle-aged men), improve heart-rate variability and lower cortisol levels while boosting one's mood. An analysis of studies from 2010 that focused on exercising in nature found improvements in self-esteem, particularly among younger participants. Overall effects on mood were heightened when there was a stream or other body of water nearby.
Just because.
This is a thing. Kind of.
I started collecting cool content marketing jobs and shared it on Twitter earlier this week. A surprising number of people were interested, so I'll be keeping this list updated. Hiring for a content role? Let me know!
5. Random Links
Have a great weekend!
Jimmy
PS - I'm looking to partner with a few great businesses to sponsor this newsletter. It reaches a bunch of smart folks from places like Google, Apple, Spotify, New York Times, Marriott and Harvard. Shoot me an email if you're interested in working together.