Hey Everyone,
Hope you're having a great week. Here are a few things I've been reading, writing and pondering lately. Enjoy!
---
Sponsored
How to Turn One Piece of Content into 10
Why start from scratch? Chances are, all the ingredients for your next piece of content are waiting to be mixed up and served in a fresh post or infographic. Check out these 5 content repurposing ideas to help you work smarter, not harder.
---
I've never found any content marketing podcasts that I like, so my colleague Jan-Erik Asplund (he's a good Twitter follow) and I decided to make our own. We'll be talking real content strategy, no tips, tricks or hacks. Hope you enjoy it!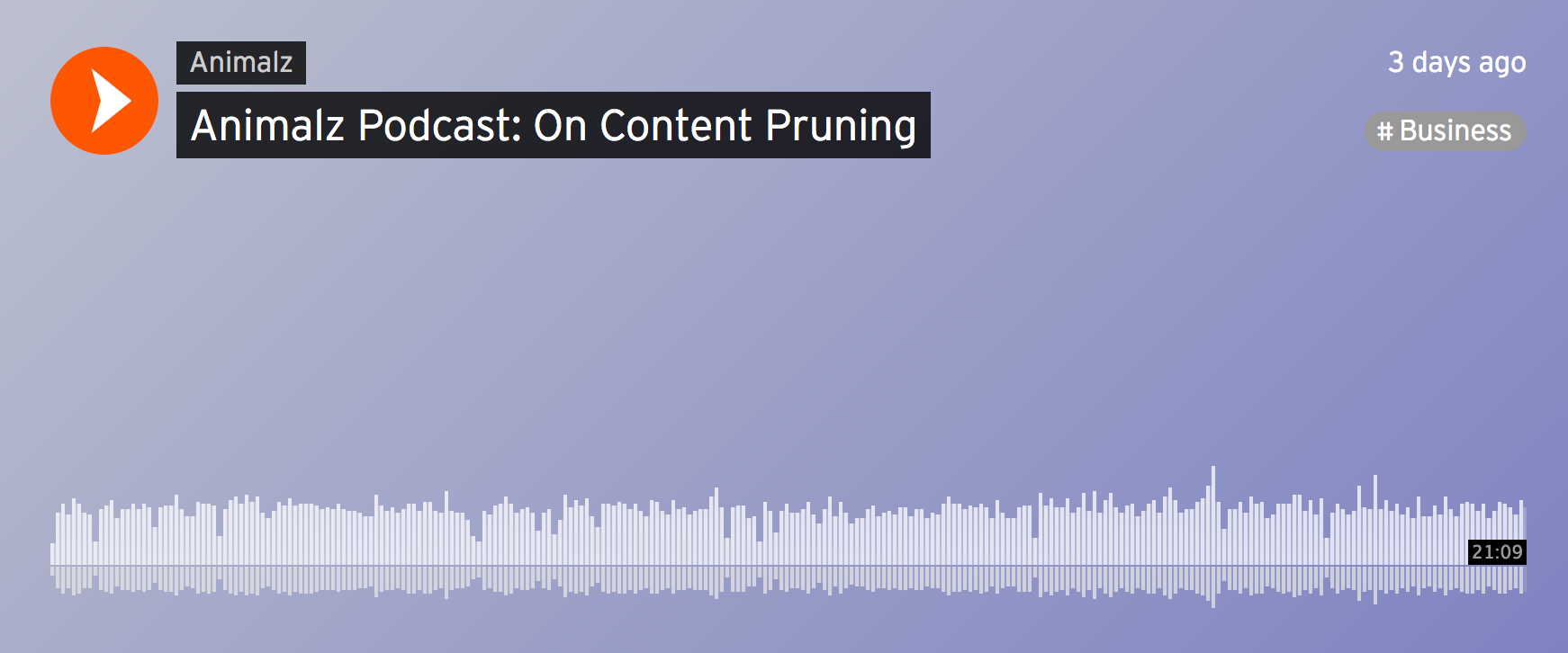 I'm a sucker for articles like this. This one is actually pretty good. It led me to a few personal finance blogs that I also enjoyed.
"People always assume there's an external circumstance: 'Oh, you must have received an inheritance,'" Mr. Jensen said. "We've just chosen to live far below our means. That itself is a radical idea."
This article nails a trend I've noticed but haven't been able to put a finger on. Content built for search is honest and helpful. SEO, for all its flaws, is much nicer part of the internet than social.
It's not a crime to write an enthusiastic headline, but when every headline you see is yelling at you in one way or another — and making outsized claims about the emotional state of its author or readers — it becomes difficult to trust the claimed sentiments of writers. At the very least, it's extremely annoying.
SEO content, on the other hand, dispenses with the emotional in favor of the mechanical. It can be stilted and awkward — but it's more honest and transparent. When a writer pads their article for the trailer of the newest Marvel movie with search keywords — data like the cast and crew and opening date — they're optimizing for the Google robots. But they're also providing genuinely useful information. Social content was about manipulating people into clicking, sharing, and posting. SEO is about manipulating robots into treating your content as the best example of sought-after information.
I'm not a fan of this trend on Twitter, but this is a "how to be successful" list I can get behind.
Ways to grow professionally:

- Podcast
- Give a talk
- Write a blog
- Take a course
- Ask for a raise
- Go to meetups
- Get a remote job
- Join a community
- Start a newsletter
- Grow your network
- Create a side-project
- Build a product business
- Learn more programming

— Justin Jackson (@mijustin) September 6, 2018
5. Random Links
Have a great weekend!
Jimmy
PS - I'm looking to partner with a few great businesses to sponsor this newsletter. It reaches a bunch of smart folks from places like Google, Apple, Spotify, New York Times, Marriott and Harvard. Shoot me an email if you're interested in working together.